Welcome to our scrumptious domain
Top Quality Food & Professional Catering
Request Catering
We are Singletons Catering, a family owned and operated business serving
Ascension Parish , Baton Rouge , New Orleans, and Surrounding Areas.
Top Quality Ingredients and Meals Made Fresh To Order

Serving up delicious, quality meals for every event is our specialty.
Request a quote today to learn more about our catering services!
Singletons Catering offers professional servers, delivery, meal setup, chaffing dishes, tables, table linens and catering essentials.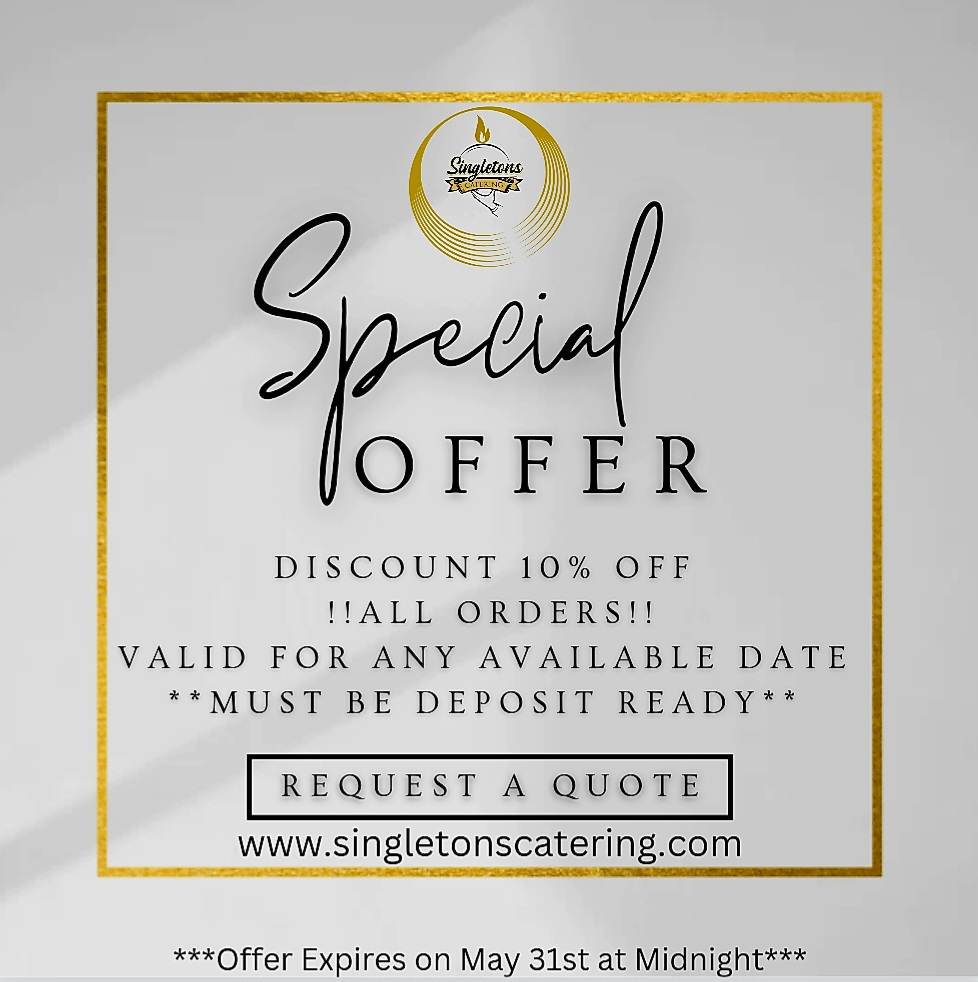 Make your next event memorable
With Over 20 Years Of Culinary Experience, You're In Good Hands
From corporate events to weddings, we will take care of all your catering needs with the highest level of professionalism.

Request Quote
Sidney Singleton | Ashley Singleton
Meet our founders
We are Singletons Catering, a family-owned and operated business serving Ascension Parish , Baton Rouge , and New Orleans. Sidney Singleton is our head chef and Ashley Singleton is our owner and CEO. We specialize in delivering and catering quality food for businesses and special events. The primary key that sets us apart from other catering companies is our unmatched passion for making people happy by providing them an unforgettable catering experience, scrumptious delectables and 100% satisfaction! Learn more about us in The Advocate interview.


Read Article
What Our satisfied customers Say
Best seafood pasta in town! The perfect amount of seasoning and the sauce is to die for! There is nothing but love and passion with this company and I would recommend Singletons Catering for any event that is in need of delicious food and professional service! 10/10 ✨💖✨
Caroline Leach
May 11, 2023.
VOTE Advocacy Day at the Louisiana State Capitol was nothing short of amazing, Ashley of Singleton's Catering made the event so much more. The food was speaking its own language and everyone understood "exceptionally fabulous".That with the 5 star service from the staff, to the breathtaking presentation made it much like a red carpet Gala Award winning event. Thanks so much Ashley for making it happen for all of our Louisiana's VOTE Chapter's.
Amelia Herrera (Amelia BH)
May 3, 2023.
Thanks to Singletons Catering for providing amazing eats for our guests at the Xavier University of Louisiana CARE Gala. Everything was prepared to perfection and beautifully presented. The chicken pasta was the hands-down favorite of all our guests. It was a pleasure working with Ms. Ashley Singleton, who was communicative, professional and provided an amazing service at a reasonable price.
XULA CARE
April 21, 2023.
Singletons Catering met every expectation. Caterers communicated well and in a timely manner. Food was great! Set up and display was nice as well. Thank you for making my Bridal Shower perfect.
Lay'la Robertson
April 20, 2023.
Singleton's catered my sister's wedding, and everything from the set up to the service to the actual food itself was superb. The care and attention to detail was completely on point in and we will definitely be using Singleton's again . . . and again!
Anitra Brown
April 20, 2023.
We used Singleton Catering for a work lunch and the food was outstanding and the prices were very reasonable. We will definitely be using them for future events.
Jennifer Gautreau
April 12, 2023.
What I admired, the smiles, the professionalism,very courtseyous, the food, IAM very picky, thanks ladies, we talked about the food all the way to Houston. Y'all get an A+
Lionel Blackwell
March 25, 2023.
I was lucky to be able to place a last minute order for a container of Gumbo. I offered to meet the owner for pick up however she would not allow it. She delivered it to my home. It was a very large container full of sausage, chicken, shrimp n crabs. I ate a nice bowl yesterday and again for lunch today. The rest I seperated into small bowls for days I just want some gumbo. Just pull it out the freezer. Oh even the presentation of the rice was beautiful. Very delicious!!!!!
Amanda Randolph
March 13, 2023.
Amazing food and professional catering I highly recommend
Jean loriston
March 9, 2023.